Main content starts here, tab to start navigating
Eat with us!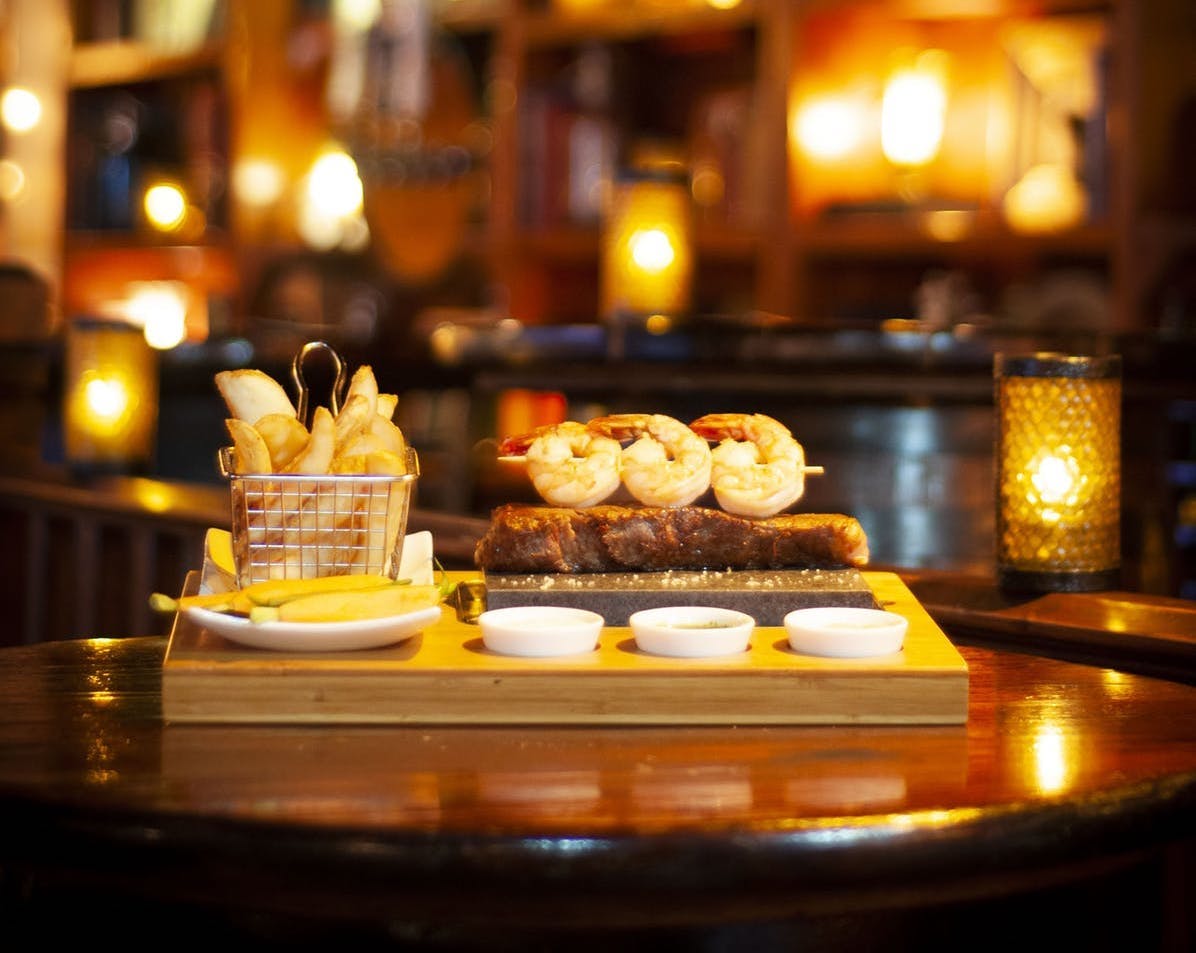 Beers
Ask Your Server About Our Rotating Craft Taps | Bottles & Cans Too
Guinness

Smithwicks

Harp

Stella Artois

Blue Moon

Cigar City Jai Alai IPA

Funky Buddha Floridian

Magners Cider
Cocktails
Dublin Breeze

Jameson Irish whiskey, Celtic Honey liqueur, fresh lime, and ginger ale.

$8.50

Jameson Black Barrel Old Fashioned

Jameson Black Barrel Irish Whiskey, Benedictine liqueur, Angostura Bitters, Orange Bitters, and orange slice

$11

Gunpowder Elderflower Collins

Drumshanbo Gunpowder Irish Gin, St Germain liqueur, fresh lemon juice and soda water

$10

Black & Stormy

Blackwell Jamaican dark rum, ginger beer and lime

$8.50

Pomegranate Margarita

Sauza Blue Silver tequila, Pama pomegranate liqueur, triple sec, sour mix, fresh lime, splash of OJ

$8.50

Grey Goose Peartini

Grey Goose La Poir, pear nectar, St Germain liqueur, lemon juice and simple syrup

$11

Tito's Pineapple Martini

Tito's vodka, triple sec, pineapple juice and sweet and sour

$9

Baileys Espresso Martini

Baileys Irish cream, Smirnoff vanilla vodka and fresh espresso

$10
Whites
Santa Cristina Pinot Grigio

Della Venezie, Italy

$8

$32

Oyster Bay Sauvignon Blanc

Marlborough, NZ

$8

$32

Chateau St Michelle Riesling

Columbia Valley, WA

$7

$25

Kendall Jackson Chardonnay

California

$9

$32
Sparkling
Veuve du Vernay

California

$8.50

Moët & Chandon Brut

Champagne, France

$75
Rose
B&G Côtes de Provence Rose

Provence, France

$11

$38
Reds
Meiomi Pinot Noir

California

$12

$42

Tangley Oaks Merlot

Napa, California

$9

$32

Dona Paula Estate Malbec

Mendoza, Argentina

$8.50

$30

Wente Cabernet

Southern Hills, California

$9

$30

Justin Cabernet

Paso Robles, California - Half bottle

$25
House Selection Trinity Oaks
Chardonnay, Pinot Grigio, Merlot, Cabernet Sauvignon, Montevino White Zinfandel

$6.50
Coffees
Irish Coffee

Jameson Irish whiskey, coffee, light brown sugar and fresh cream

$8.50

Baileys Coffee

Baileys Irish cream, coffee and fresh cream

$8.50

Nutty Irishman Coffee

Baileys Irish cream, Frangelico, coffee and fresh cream

$8.50

Ask your Server about our Espresso, American, Latte, Cappuccino
Sodas
Cola, Diet Cola, Sprite, Unsweetened Iced Tea, Pink Lemonade, Ginger Ale.
Salads
Field House Salad

Mixed greens, onion, tomato, carrots, artichoke hearts, hearts of palm, cheddar, croutons and your choice of dressing.

$11

Classic Caesar

Romaine hearts, croutons and Parmesan cheese, tossed in creamy Caesar dressing.

$9

Top Your Salad

Grilled Or Blackened

Chicken $5

Mahi Mahi $8

Dressings

House Balsamic Vinaigrette, Herb Ranch, Blue Cheese, Honey Mustard, Thousand Island, or Oil & Vinegar
Soups
Irish Potato Soup

A house specialty topped with cheddar cheese, crumbled bacon and green onions.

$5

$7.50

Soup of the Day

Prepared daily with fresh ingredients.

$4.50

$6.50
Irish Sausage Rolls

Irish sausage wrapped in golden puff pastry with honey mustard dipping sauce.

$10

Donegal Mussels

Fresh black PEI mussels in white wine, garlic, and cream with garlic bread.

$16

Spinach & Artichoke Dip

Housemade with spinach and artichoke hearts with seasoned tortilla chips.

$9.50

Smoked Fish Spread

Mahi/Wahoo smoked dip, sesame flatbreads, veggie sticks & jalapeños.

$13

Potato Skins

Three large skins loaded with bacon, cheddar, green onions, and sour cream.

$9.50
Wild Oak Smoked Salmon

Smoked salmon, sesame flatbreads, red onion, capers, and potato pancake.

$15

Giant Pretzel

Giant salted Bavarian soft-baked pretzel with beer cheese.

$9.50

Roasted Garlic Hummus

Housemade hummus with pita points.

$9

McCabe's Wings

Mild, medium, hot or Guinness BBQ with blue cheese, celery, and carrot sticks.

$12

Chicken Tenders

Breaded tenderloins with BBQ or honey mustard.

$10
The Celtic Rock is not available to take out but our chef can prepare these dishes for you on our grill and saute to take out.
Premium Meats & Seafood
We source our Black Angus New York Strip from Revier Cattle Company, Minnesota. They handpick only the highest quality USDA Choice beef with incredible marbling, tenderness, and flavor. Our choice beef and lamb is hand-trimmed, lean and tender and our seafood is among the best available. Discover these amazing flavors on our Celtic Rock or just ask your server and our chef can prepare them for you.
Black Angus New York Strip

12oz Upper Choice Black Angus New York Sirloin Strip.

$32

Tenderloin of Beef

Our most tender cut. 8oz Tenderloin of Beef.

$30

Tenderloin of Lamb

8oz all-lean Tenderloin of Lamb with fresh mint sauce.

$30

Yellowfin Ahi Tuna

Sushi-grade Yellowfin Tuna seared on the rock.

$25

Seafood Rock

Yellowfin Ahi Tuna, 3 Jumbo White Shrimp and 2 Jumbo Sea Scallops.

$34

Share On Two Rocks

Split your dish on two rocks, with two sides, extra sauces and another salad to start.

$10

Add Shrimp or Scallops

3 Jumbo White Shrimp $9

2 Jumbo Sea Scallops $9

Signature Sauces

Celtic Rock Sauce, Chimichurri, Horseradish Cream, Ginger Honey Soy, Curried Mustard, Remoulade

The Celtic Rock Comes With

Tossed Field of Greens Salad to start or Caesar Salad $1

Sautéed vegetables and mashed potatoes, fries, rustic potatoes or baked potato $1

Substitute Creamed Spinach $3

Please ask your server for additional vegetable options.
Burgers
Our burgers are half-a-pound of Choice USDA Angus Brisket & Chuck. Served with Lettuce, Tomato, Onion, and Pickle.
The Carrick Burger

An American classic, flame-grilled to your liking.

$12.50

add cheddar, Swiss, jack or American cheese $1.50

The Irish-American Burger

Our premium burger with Dubliner aged Irish white cheddar cheese and Irish bacon.

$17

The Field Burger

Our premium burger with sautéed mushrooms, onions, Monterey jack cheese and BBQ sauce.

$15

The Impossible Burger

Entirely plant-based with incredible flavor and beefiness without any cows. On a Kaiser roll with chipotle mayo.

$14.50

Burgers Come With

Seasoned Fries or Coleslaw

Sub Veggies $5

Sub Salad $1
Sandwiches
The Field Pub Sandwich

Boneless breast of chicken grilled or blackened on ciabatta with lettuce, tomato, and chipotle mayo.

$12.50

Irish Dip

Roast beef on a toasted hoagie roll with crispy onion straws and natural jus.

$14

add cheese $1.50

mushrooms $5

onions $5

Classic Reuben Wrap

Corned beef, melted Swiss, thousand island and sauerkraut wrapped in a flour tortilla.

$14.50

on Rye $1

Garden Veggie Burger

Garden vegetable patty on a Kaiser roll with lettuce, tomato, and veggie dressing.

$12

Mahi Mahi

Filet of Mahi, grilled or blackened and served on a Kaiser roll with lettuce, tartar, and lemon.

$16.50

Kilkenny Sandwich

Roast turkey breast, Irish bacon, Swiss, lettuce, tomato, and mayo on toasted farmhouse wheat bread.

$14

Sandwiches Come With

Seasoned Fries or Coleslaw.

Sub Veggies $5

Sub Salad $1
Field Favorites
Irish Stew

Tender pieces of lamb, potatoes and farm fresh vegetables in a flavorful broth with country bread.

$16

Corned Beef & Cabbage

Lean, tender slices of corned beef, steamed cabbage, carrots, red potatoes, herb cream sauce, and wholegrain Dijon.

$17

Bangers & Mash

Irish sausage and mashed potatoes with crispy onion straws and gravy.

$14.50

Country Chicken Pot Pie

A homemade casserole with chicken, peas, mushrooms, carrots, celery, and onions topped with golden puff pastry. With sautéed vegetables.

$16

Classic Meatloaf

A family favorite with brown gravy, crispy onion straws. Mashed potatoes and sautéed vegetables.

$15.50

Irish Cabbage Rolls

Cabbage leaves with finely-ground seasoned sirloin stuffing in a tomato sauce with Parmesan. Mashed potatoes and vegetables.

$15

Shepherd's Pie

Ground sirloin, peas, carrots, onions and gravy topped with mashed potatoes.

$15

add grated cheddar $1.50

Fish & Chips

Two freshly battered filets of cod served over seasoned fries with tartar sauce and lemon.

$18.50

Add A Salad To Any Field Favorite

Tossed Greens $2.50

Caesar $3
Specialties
Gaelic Steak

Single-Source, Certified Black Angus, Upper Choice with exceptional marbling & flavor Center-cut New York strip cooked to perfection and topped with an Irish whiskey mushroom cream sauce.

12oz $32

Barrywall Butter Pepper Crusted Steak

Single-Source, Certified Black Angus, Upper Choice with exceptional marbling & flavor. Center-cut New York strip pan-seared with seasoned black pepper and topped with our Barrywall butter.

12oz $32

Portadown Bone-In Pork Chop

Heritage Breed, Single-Source, Family Farmed Duroc Pork. Grilled or blackened center-cut bone-in Pork Chop with gravy and apple sauce.

$21

Drunken Chicken

Naturally Hormone & Antibiotic Free Chicken. Boneless chicken breast pan-seared in an Irish whiskey cream sauce with mushrooms.

$17

Dolphin Française

Filet of dolphin in an egg wash with white wine and lemon, rice and sautéed vegetables.

$21

Dishes Above Come With

Tossed Salad to start | Fresh Sautéed Vegetables and a choice of Potato: Mashed, Rustic, Seasoned Fries or Rice.

Tossed Salad to start (Caesar) $1

Baked $1

Creamed Spinach $3
Irish Breakfast
Available Saturday & Sunday 11am - 2pm
The Full Irish Breakfast

Irish sausage, Irish bacon, homemade potato pancake, black & white pudding, grilled tomato, fried eggs, toast and your choice of Irish tea, coffee or soda.

$14

add baked beans $1.50

Corned Beef Hash

Our famous Corned Beef with diced peppers, onions and potato. With two eggs and toast.

$13
Desserts
Famous Bread Pudding

with an Irish whiskey sauce.

$8

Guinness Apple & Oat Crumble

Topped with some cinnamon ice-cream.

$8.50

Creme Brulee

Chilled custard with caramelized brown sugar.

$7.50

Decadent Chocolate Cake

Sinfully rich layered chocolate cake with whipped cream.

$8

Handmade Ice Creams

Vanilla Bean or Cinnamon.

$6

Add Ice Cream to Any Dessert

$2
Sides & Such
Black & Tan Onion Rings With Chipotle Mayo

$6.50

Steak Cut French Fries

$5

Curry Sauce

$3

Mashed Potatoes

$3

Rustic Potatoes

$3

Baked Potato

$3.50

loaded $1

Coleslaw

$3

French Green Beans & Carrots

$3

Creamed Spinach

$6

McCabe's Country Bread

$2.50