Main content starts here, tab to start navigating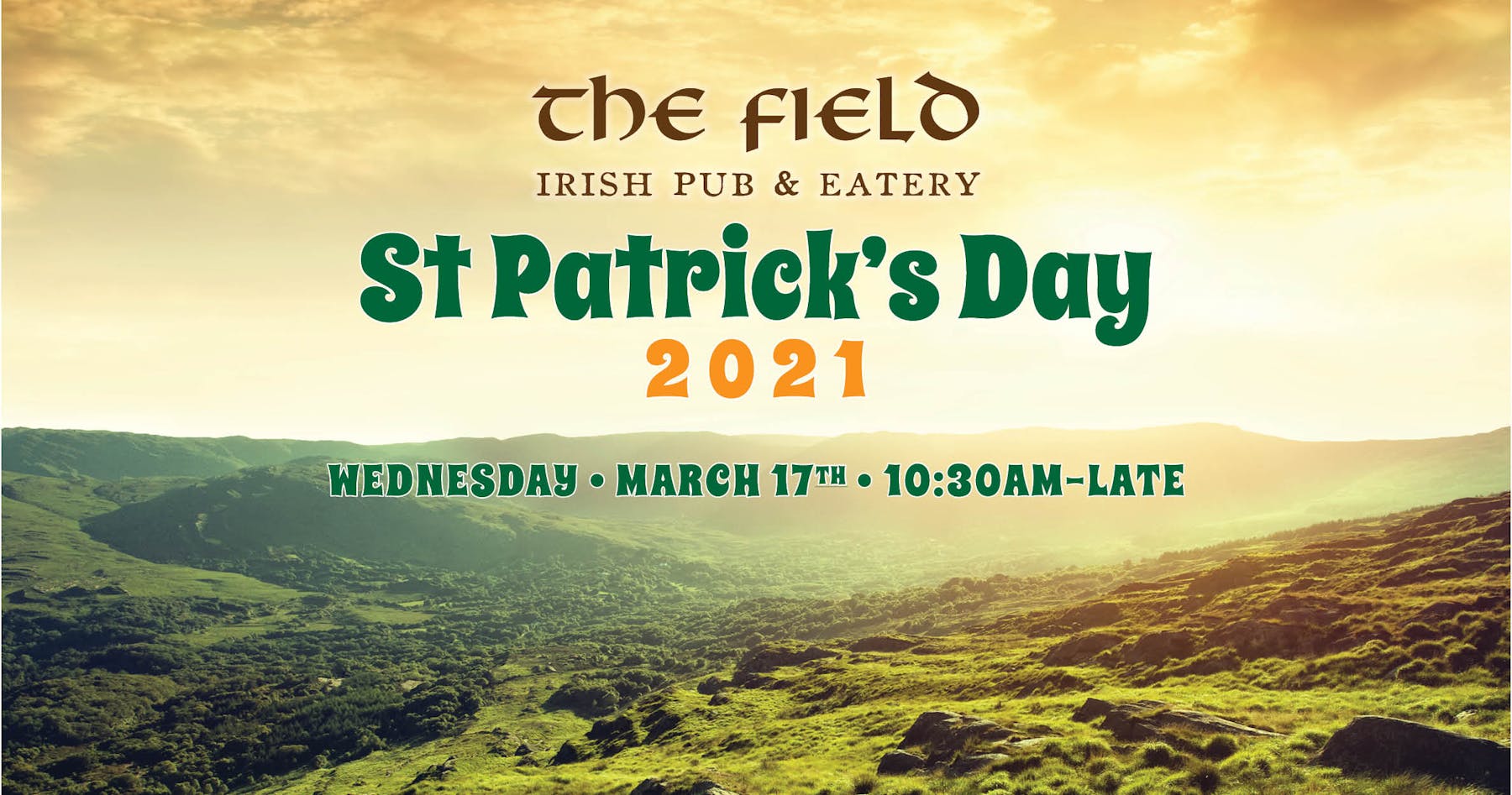 SOUTH FLORIDA'S BEST SAINT PATRICK'S DAY PARTY!
TRADITIONAL IRISH MUSIC
with IAN MILLAR from The Irish Rovers
and ADE PEEVER from Celtic Bridge
DRAKE SCHOOL IRISH DANCERS
TRADITIONAL IRISH FARE & PUB FAVORITES
THE FIELD IRISH PUB & EATERY
3281 GRIFFIN RD • DANIA BEACH • FLORIDA 33312
TABLE RESERVATIONS RECOMMENDED - DUE TO COVID RESTRICTIONS & SOCIAL DISTANCING REQUIREMENTS—NO STANDING IS PERMITTED!
3 SEATINGS ONLY;
LUNCH(10:30am-2:30pm)
Fully Booked!
AFTERNOON(3pm-6:30pm)
Fully Booked!
DINNER(7pm-11:30pm)
Fully Booked!
To give all our guests an opportunity to celebrate the day, each party must arrive and depart the pub during one of these three times of day. We understand this is not ideal for everyone, but as the pandemic continues, we are doing our best to allow everyone to experience a little piece of Ireland in South Florida on this day.
COVER CHARGES FOR TABLES IN MUSIC AREAS (ONLY).
A $5 cover charge per guest will be added to checks in music area during lunch (10:30am-2:30pm).
A $10 cover charge per guest will be added to checks in music area during afternoon (3pm-6:30pm).
A $10 cover charge per guest will be added to checks in music area during lunch (7pm-11:30pm).
100% goes to entertainers!
There will be no cover charges or entertainment on our patio or in our quieter dining rooms. We will still gladly accept reservations in these areas though.
Due to social distancing requirements congregating is not permitted, parties will not be able to wait for seating inside or outside the pub. If you do not have a reservation, we will be unable to accommodate you.
BE RESPONSIBLE! Leave the car at home—Uber or Lyft | We have limited on-site parking, off-site valet parking for an additional charge of $10 at The Miami Showmen's Association, half a block west.
SLÁINTE!
WHAT WILL BE DIFFERENT DUE TO CORONAVIRUS?
Firstly, let us just reassure you that St Patrick's Day is on! This is our 21st St Paddy's Day and we will be celebrating the day with some important changes to note.
In accordance with local directives, there is no standing and guests will need a table to consume food or beverages. IF YOU STAND UP, MASK UP! Please respect 6 foot social distancing from other people and parties.
As we approach this big day and all of the days before and after we want to assure you that The Field Irish Pub & Eatery is more vigilant than ever where your health and safety is concerned. We only use single-use cleaning items with CDC certified disinfectants and additional cleanings of all of our front and back of house surfaces.
We have been open for dine-in since May 2020 and have re-educated our staff on these best practices and ways we can better serve while protecting you.
We know that times like these will pass and we hope that it will pass much easier with a cold pint, a hot meal, a few tunes and some good company. Thanks to all of our loyal patrons who make this public house a home.
SLÁINTE